BornFyne Connects Pregnant Women With Health Providers

Problem
Since the Anglophone crisis started in the North West and South West Regions of Cameroon, access to health care services has challenged many. Many health facilities in rural areas have either shut down or run on a low-budget alongside inadequate medical staff and resources. This has left many pregnant women to cater for themselves. Some are living in the bush without any form of health care or access to basic necessities. They sleep in huts with no mosquito nets and are open to infections from insects and other crawling creatures. Others have braced the odds to register for antenatal but cannot attend the clinic days because of the constant gun battle between separatist's fighters and military forces. The escalating crisis has left many of these women without money to register for their antenatal thus contributing to the slow decrease in maternal and child mortality in the North West Region.
Solution
BornFyne is a Grand Challenge Canada Funded project, implemented by the University of Ottawa in Canada and Effective Basic Services (eBASE) in Cameroon and will run for 18 months. The project supports very poor women in rural areas and provides them with mobile phones, solar chargers and transport to enable them to attend their antenatal sessions. In addition to that, it covers all cost from registration to lab tests, medications and delivery – be it normal or caesarean. The BornFyne app is installed into the smartphones which connect the pregnant women to their doctors in case of emergencies. If a woman is in crisis, she can alert her doctor by clicking on a button in the app which will alert the doctor and he will respond immediately. This app enables the doctors to store the medical files of their patients in the cloud on a program known as Pre-Natal Management Systems "PNMS" which ensures the safety of the files for future review.
Testimonies
On the 2nd of April 2019, Ebase Africa hosted the Women Deliver Satellite event at the St Elizabeth Catholic Health Centre Bali. It served as a platform for the Triple Jump Event on the BornFyne Mobile Application. The event brought together women, community workers and service providers who talked on the challenges faced by pregnant women in Bali and how power hinders or drives progress especially with their experience with BornFyne.
Tatiti Salome, a beneficiary of BornFyne says she is grateful as BornFyne has helped her family.
"My brother is a victim of the constant gun battle between 'Amba boys' and the military forces. His two legs caught a stray bullet and my mother is taking care of him. She can't take care of us the same time – that is financially but thank God, I discovered the BornFyne program at the hospital and I haven't spent a dime from my pocket since then. I did my echography twice and it's free.  Imagine my mother taking care of my brother and me in this difficult time?" Says Salome.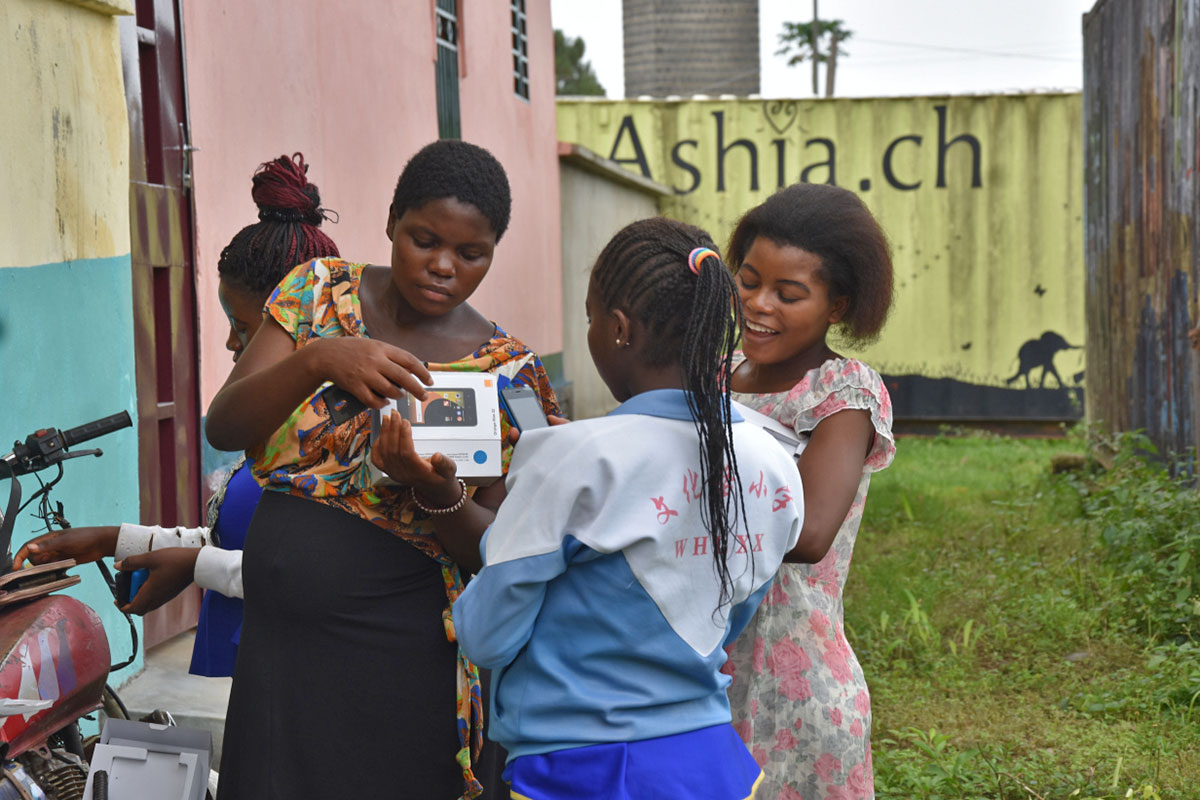 To Salome, the family has been able to save some money which she can use to buy her baby's needs. Baby items which Chenye Alloin – Jolly, another beneficiary says were all burnt along with her belongings when unknown men burnt her home.
"I want to thank BornFyne for coming to my aid because if not of this program, I would have lost hope. Before I came for my antenatal registration, I had a lot of complications until a member of the community told me about the program which has helped me financially since I registered. I can now use the little money I have to buy new things for my baby." Explains Chenye
Living in Bali which is one of the "Hot Zones" in Bamenda, access to the hospital is not the only difficulty these women face –they also have to deal with constant power failure.
"When there is a power failure, I use the solar charger BornFyne gave me to charge my phone and torch so I can keep doing my chores and stay in contact with the community health workers." Added Chenye
News of the BornFyne program is spreading quickly and some women, encouraged by their husbands are leaving the bush to seek refuge in Bali so they can save their babies as attending clinics and getting proper medical care is essential to the baby's health.
Buban Confidence is a pregnant woman from Balani, a village in the South West Region of Cameroon and lived in the bush with her husband for months. She got the news of this program from her husband who came across the program while getting treatment at the St Elizabeth Catholic Health Centre. "Living in the bush is not easy. We had no potable water and slept in huts made with palm leaves. I was happy when I got here because many still live in houses and life is better but in Balani, many families have separated and nothing exists. If not for my husband, I would put to birth in the bush. I used the registration money to prepare for my baby, so I am very thankful to BornFyne for taking care of me."
Mboyeh Lydia is a nursing mother with a 4 day old baby boy and says she was able to have a healthy pregnancy thanks to BornFyne.
"I had a safe delivery and the baby and me are doing perfectly well. i have not spent any money throughout the process. I want to use this opportunity to advice women to always attend their antenatal so they can stay healthy and their babies too. This is my fifth baby and i was lucky enough to have this kind of support especially during a period like this."
According to Celine Mahtang, a community health worker in Bali, BornFyne has helped pregnant women gain access to health care services as these women now because we contracted bike riders to go carry them from their houses to the hospital. Those who have complications get to do free echography to view the position and health of the baby. When it is delivery time, these women called the bike riders who come and carry them to the hospital.
So far, BornFyne which is running only in the Bali health district at the moment has supported over 120 women who have used the application to gain access to free health care services.
Maikem Emmanuela Manzie
https://maikemsdairy.com/2019/04/03/bornfyne-connects-pregnant-women-with-health-providers/