In Africa, We Are Bringing the Sunshine into Our Homes with solar lamps!
By Okwen P Mbah, eBASE Team Lead
In Cameroon and most of Africa, food is usually prepared by women and children on a three stones fireside. They usually spend hours gathering wood and several more hours cooking food. Women and children therefore spend an average of 9 hours daily in the kitchen breathing smoke from the firewood and risk of fire burns. These puts women more at risk for chronic obstructive airway diseases from indoor pollution, burns from cooking and for pregnant women risks of low birth weight. This time spent on fetching wood and cooking also means the women have no time for other activities including education and leisure. The WHO estimates that 34% of women compared to 13% of men suffering from COAD in Africa.
In collaboration with Stichting Support Batibo Kamerun, World Solar Fund and Medic Foundation Holland, eBASE was able to provide 40 households with cook stoves and solar lamps for cooking, reading and phone charging in the Mbororo community in Ndzah in the north West Region of Cameroon. Each household received one African Clean Energy solar cookstove and one SOLITED solar lamp. We used an evidence barometer to design the project considering aspects of equity, community engagement, resources used and integration of project. Households had started recording episodes of cough, sore eyes and cooking time and these were to be compared to a similar Mbororo community in Bali where the cookstoves and lamps were not provided.
The Ndzah community has been very happy to receive these gifts, please watch our video at: https://www.youtube.com/watch?v=2qEvS84cn18&t=199s.
After six months of families using solar cookstoves and solar lamps, we noticed a reduction in episodes of coughs, sore eyes and reduction in meals cooking times. Children within these households dedicate more time to studying with healthier light sources. Women have more time for leisure and are now considering dedicating this time for adult learning.
eBASE is working towards a scientific approach to measuring the health impact of using healthier cooking sources on birth weight, eye health, fire accidents, episodes of cough as well the impact on the environment over a longer period.
Based on these early promising results, eBASE is strongly recommending a scale out of this project to reach other energy underserved communities and a sound approach to measure impact on climate change and environment.
In 2017, there were 28,777 live births in the North West Region of Cameroon with an estimated 5.3% prevalence of low birth weights in live births, an over 1500 babies will be born with low birth weight. Because many infants with low birth weight will be still births, this figure could be much higher. The proportion of low birth weight attributable to indoor pollution is unfortunately not documented. However, we believe that an investment in providing pregnant women with clean energy sources for cooking and lighting reduce low birth weight and still births.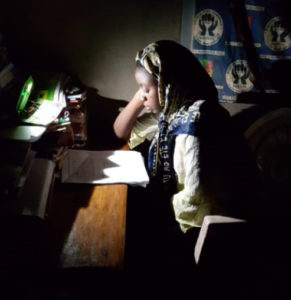 Quotes
The Ardo (Community head) "Thank you very much for this gift. With the solar cooker, I am able to boil water for my tea especially during the fasting period of Ramadan where I always have difficulties going outside the house at night to boil tea".
Idris Umaru (the youth president). "thank you for these solar cookers. The cookers do not help only at the level of the kitchen. Some of us the youths use to cover long distances to charge our phones. We are now able to charge our phones at home and save time. At first, we use to buy kerosene and candles to use at night. But with the solar lamps, we no longer buy kerosene nor candles. So, it's not just the women who are happy, the men too are happy."
Mr Bashir. "Thank you for this very good initiative. I will say I must count myself lucky to be a beneficiary of this innovation. I know of other communities with the same characteristics as ours or even worst and extending this to them will be of great aid … and I know many people within these communities will be willing to pay for solar cookers and lamps"
Abdu Karim. "With the solar cookers, the women have realized it will help them not to go into the bush to fetch wood, and as the environment is getting smaller, wood is becoming scarce … this technology provides an opportunity for the women to succeed in their kitchen work"
Accounting student. "With the solar lamp, I am able to study at night for longer hours compared to before that I will use candles or bush lamps that usually hurt my eyes the next day".